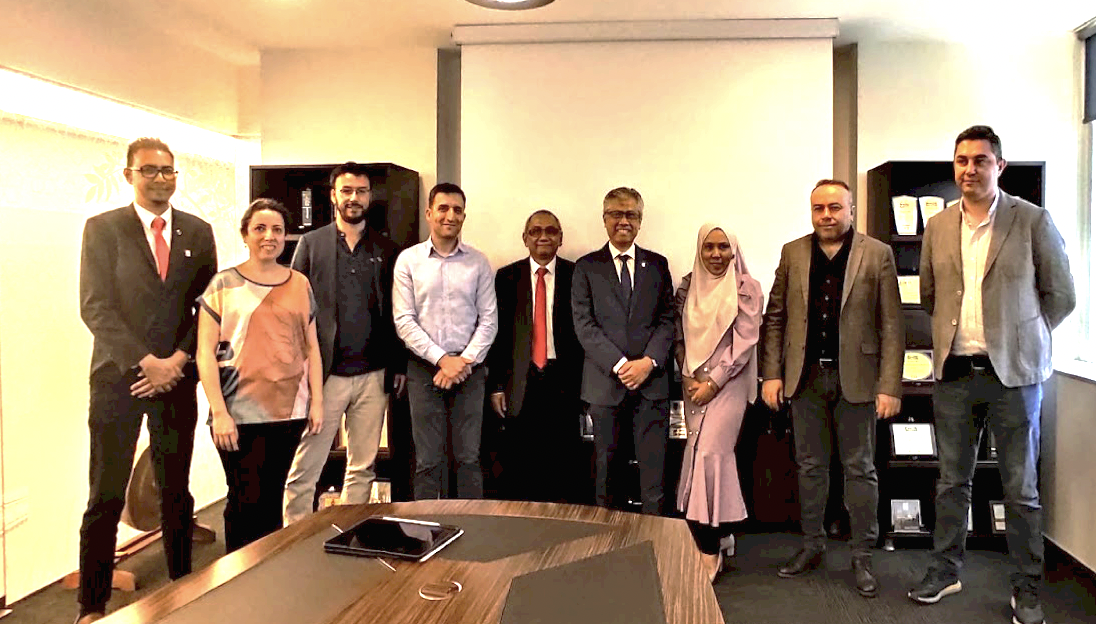 PUTRAJAYA, MALAYSIA, 31 MAY 2022: Islamic Tourism Centre (ITC) partnered with Tourism Malaysia recently to advance tourism collaborations with Turkish tourism industry players and position Malaysia as an appealing Muslim-Friendly destination for Turkish tourists.
The partnership saw a "Muslim-Friendly Malaysia" in-house seminar being organised in Istanbul, Turkey, on 16 May where five Turkish tourism operators attended to learn about Malaysia's touristic offerings and the Muslim-friendly products, services and facilities offered by Malaysia.
ITC Director-General, Dato' Dr. Mohmed Razip Hasan said: "We shared about Malaysia being a Muslim-friendly destination. The discussion after that was really interesting to get to know more about the Turkish market. Now that we are in the post-pandemic stage, we can say that new travel preferences and opportunities have emerged, and Islamic Tourism has potential to attract more Turkish tourists to Malaysia."
He added: "It's valuable for us to know of these new travel preferences so we can address them through our engagement later on with our Malaysian tourism industry players in our training and conferences with them."
"There's a lot that Malaysia can already offer to this market, especially in terms of nature, culture, food, lifestyle, and shopping and entertainment experiences. At the same time, we feel that there is still an opportunity for our Malaysian tourism industry players to step-up efforts to make Malaysia more appealing to the Turkish people," Dato' Dr. Mohmed Razip shared.
He explained that Turkish tourists would feel more at ease having Turkish-speaking tour guides attend to them and that operators of tourist attractions and travel agents should come up with more brochures and online information about Malaysia in the Turkish language.
Director of Tourism Malaysia Istanbul office, Madam Norlizah Jahaya, said that they were pleased to work together with ITC and take advantage of the new developments in tourism.
"Now that Malaysian borders have reopened, we want to boost tourism travel in the post-pandemic. We are pleased to work with ITC on this initiative to re-introduce Malaysia as a Muslim-Friendly destination for the market here and in the Balkan region," she said.
"The meeting today with Turkish tour operators was a good engagement to explore opportunities where we could collaborate together. With better understanding of what Turkish tourists are looking for, then we can assist our Malaysian industry players to develop and promote Turkish-Malaysia packages," she added.
The ITC and Tourism Malaysia team also paid a courtesy call to Türkiye Tourism Promotion and Development Agency (TGA), meeting up with its General Manager, Mr. Yalçın Lokmanhekim and Mr. Yildirim Ugursoy, TGA Country Marketing Manager.
Mr. Mohd Akil bin Mohd Yusof, an ITC Board of Trustees member, Deputy President of Malaysian Association of Tour and Travel Agents (MATTA) and Managing Director of Triways Travel Network (M) Sdn. Bhd, also saw the potential of the Turkish tourist market, saying: "Malaysia has many incredible attractions and is value-for-money to the Turkish tourists."
He added: "Industry players in Malaysia should take advantage of this and develop more Islamic Tourism packages to attract the Turkish market to Malaysia. Smart partnerships with airlines and hotels for direct flights and packages can help boost arrivals not only from Turkey but from the surrounding Balkan region, which is only about one to two hours' flight to Istanbul."
—–END—–
Islamic Tourism Centre (ITC) is an entity under the Ministry of Tourism, Arts and Culture, Malaysia tasked to develop the Islamic tourism segment for Malaysia. It advocates for Muslim-friendly tourism (MFT) by offering research and market intelligence, training, industry development consultation, Muslim-friendly tourism and hospitality (MFTH) service standards and certification, and information exchange.
In 2021, ITC received two key awards, i.e. Strategic Business Alliance Award at The BrandLaureate World Halal Best Brand E-Branding Awards 2021, and Best Islamic Tourism Leadership Gold Award 2021 by Malaysia Tourism Council. These are recognition of ITC's efforts and endeavours in formulating new strategies to meet the new normal of the business environment to ensure business continuity and sustainability, notwithstanding its role to develop and grow the Islamic tourism segment in Malaysia.
In addition, Malaysia was recently named top country in the world in the MFT sector by the State of the Global Islamic Economy (SGIE) Report 2022 by DinarStandard in partnership with Salaam Standard and supported by Dubai Department of Economy and Tourism.
Malaysia also retained the top-ranked destination in the MasterCard-CrescentRating Global Muslim Travel Index (GMTI) 2021, a position it has defended since the launch of the Index in 2015.
These recognitions are an added motivation for ITC to continue to strengthen its efforts in being a prime mover and leading institution to ensure Malaysia is at the forefront of MFTH.
For further details, kindly contact:
Islamic Tourism Centre
(Ministry of Tourism, Arts and Culture Malaysia)
Level 13, No. 2 Tower 1, Jalan P5/6,
Precinct 5, 62200 Putrajaya, Malaysia
Tel: 03-8891 7177 or via email itc@itc.gov.my
For media-related matters, contact the Corporate Communications team:
Anis, Manager, +6012 321 9137, anis@itc.gov.my
Nadhirah, Sr. Executive, +6019 356 0530, nadhirah@itc.gov.my
Aina Izzati, Asst. Executive, +6010 266 2535, ainaa@itc.gov.my
Follow ITC on these social platforms:
Facebook: Islamic Tourism Centre
Twitter: @itc_my
Instagram: @itc_my
Youtube: Islamic Tourism Centre
---