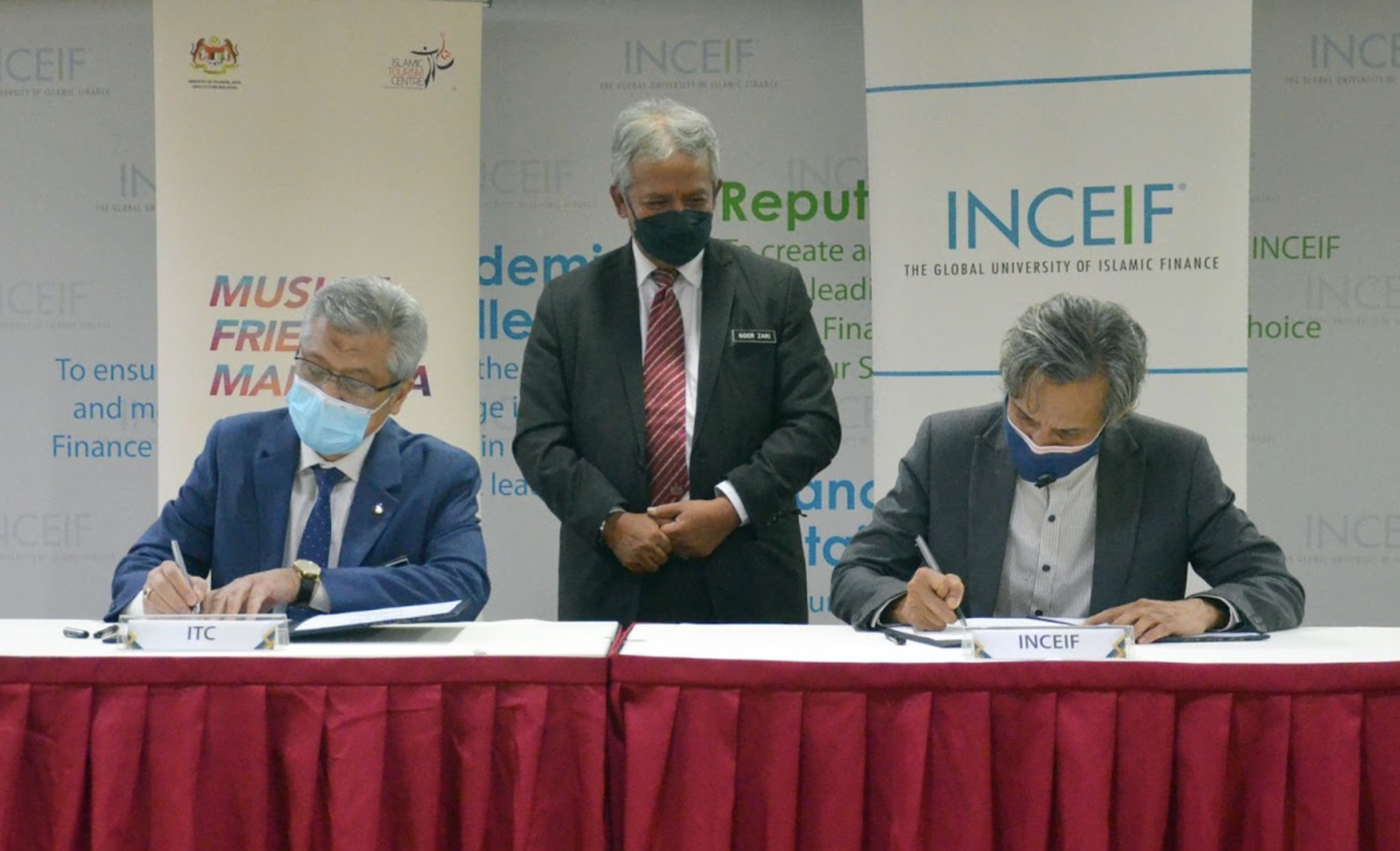 PUTRAJAYA, MALAYSIA, 22 NOVEMBER 2021: Realising the huge potential of Islamic tourism under the concept of MFTH, Islamic Tourism Centre (ITC) and the International Centre for Education in Islamic Finance (INCEIF) signed an agreement on 22 Nov to conduct a study on the potential use of cryptocurrencies in Malaysia's Muslim-friendly tourism industry. In addition, a study will also be conducted to look into the possibility of harnessing the sustainable and responsible tourism aspect of the industry.
The studies will be conducted under the INCEIF's Action Based Learning (ABL) programme which would provide much needed facts and statistics to optimise the potentials of the MFTH sector.  It is important that Malaysia leverage on the potential of Islamic Tourism to prepare for the reopening of travel and the recovery of Muslim tourists to the country.
INCEIF Deputy President Academic & Dean of School of Graduate and Professional Studies Prof Dr. Mansor H. Ibrahim represented INCEIF at the agreement exchange ceremony held at INCEIF Campus while ITC was represented by Dato' Dr. Mohmed Razip Haji Hasan, Director-General of Islamic Tourism Centre. The event was witnessed by MOTAC Secretary-General Datuk Wira Dr. Noor Zari Hamat.
Datuk Wira Dr. Noor Zari said: "ITC is pleased to collaborate with INCEIF to expand the knowledge base of Islamic Tourism and to share just how dynamic it is as a sector, even equal in importance to Islamic finance and economy.  These studies, providing deep insights into the Muslim consumer market, will enhance Islamic tourism and its role in driving the Islamic economy. In turn, such knowledge will motivate more business participation and investment in Islamic Tourism. ITC is always looking to support tourism industry players and provide them with knowledge to drive product and service innovation to cater to the needs of Muslim tourists. The research presented will be the critical foundation for decisions made to grow the tourism industry and economy."
Prof Mansor said: "INCEIF as a thought and knowledge leader in Islamic finance is honoured to share our expertise in this national agenda. With ITC's industry knowledge and network, the ABL team would be able to bridge the gap between research and business practice. The projects would hopefully lead to the creation of a conducive innovation ecosystem to address the industry's pain points that require demand-driven research."
ITC conducts research and capacity building as well as develops MFTH products and services. The agency has been consistently working with industry players to build their capacity in Islamic tourism, thus ensuring that the needs of Muslim visitors are better served.
The ABL projects are conducted by INCEIF students during the September 2021 Semester. They will be mentored by INCEIF Faculty Members with close guidance from ITC officials. For the January 2022 Semester, another batch of INCEIF students are expected to conduct studies on:
sustainable tourism of Malaysian UNESCO heritage sites;
the trend and value of Islamic tourism ecosystem in Malaysia;
the socioeconomic impact and opportunities of Malaysia as the hub of modest fashion.
The ABL experience is part of the curriculum for full-time students from Masters in Islamic Finance Practice, Master in Islamic Finance programmes and MBA (Sustainable Business). ABL's innovative and creative module pushes students to unleash their potential, in particular on-the-job skills. Students are exposed to an innovative approach to learning through practical tasks and activities for them to complete in a real workplace as they are provided with the opportunity to translate their academic-based knowledge into action by solving real business issues or developing new solutions for the industry. As a university, the opportunity to collaborate with the industry is invaluable, particularly for students as they are placed in real situations to prepare them to thrive in the dynamic world.
—– END —–
About INCEIF
INCEIF was set up by Bank Negara Malaysia in 2005 to develop human capital and knowledge leadership for the global Islamic finance industry. Apart from its academic programmes, which are PhD in Islamic Finance, Industrial PhD, MBA (Sustainable Business), Masters of Islamic Finance Practice, Executive Masters in Islamic Finance, MSc in Islamic Finance and Professional Certificate in Islamic Finance, INCEIF also offers customised executive training programmes and industry-focused applied research in line with its vision to be the knowledge and thought leader in Islamic finance, through its research management centre ISRA (International Shari'ah Research Academy for Islamic Finance) and consulting subsidiary ISRA Consulting.
INCEIF syllabus is structured with inputs from industry players to bridge the gap between academic knowledge and industry experience. INCEIF faculty members, who are globally respected among the Islamic finance academia and industry, have a combined wealth of experience and diversity. The faculty, coupled with continuous support from the industry, provides INCEIF students with strong mentoring relationships and opportunities for professional development.
In 2019, INCEIF was ranked Very Competitive (5-Star) by the Ministry of Higher Education's Malaysian Quality Evaluation System for University and University College Excellence or SETARA for short. SETARA measures the quality of all private and public universities and university colleges, including foreign branch campuses.
In November 2018, INCEIF received full accreditation from AACSB International, joining the top 5 per cent of business schools in the world to be accredited. It is the only Islamic finance university in Malaysia to receive this international accreditation.
For more information, please visit www.inceif.org
Islamic Tourism Centre (ITC) is an entity under the Ministry of Tourism, Arts and Culture, Malaysia tasked to develop the Islamic tourism segment for Malaysia. It advocates for Muslim-friendly tourism (MFT) by offering research and market intelligence, training, industry development consultation, Muslim-friendly tourism and hospitality (MFTH) services standards and certification, and information exchange.
In 2021, ITC was named the recipient of the Strategic Business Alliance Award at The BrandLaureate World Halal Best Brand E-Branding Awards 2021. It is a recognition of ITC's efforts and endeavours in formulating new strategies to meet the new normal of the business environment to ensure business continuity and sustainability, notwithstanding its role to develop and grow the Islamic tourism segment in Malaysia.
In addition, Malaysia was named top country in the region in the MFT sector by the State of the Global Islamic Economy (SGIE) Report 2020/21. Malaysia also retained the top-ranked destination in the MasterCard-CrescentRating Global Muslim Travel Index (GMTI) 2021, a position it has defended since the launch of the Index in 2015.
These recognitions are an added motivation for ITC to continue to strengthen its efforts in being a prime mover and leading institution to ensure Malaysia is at the forefront of MFTH.
For further details, kindly contact:
Islamic Tourism Centre,
Level 13, Ministry of Tourism, Arts and Culture Malaysia
No. 2 Tower 1, Jalan P5/6,
Precinct 5, 62200 Putrajaya, Malaysia
Tel: 03-8891 7177 or via email itc@itc.gov.my
Follow ITC on these social platforms:
Facebook: Islamic Tourism Centre
Twitter: @itc_my
Instagram: @itc_my
Youtube: Islamic Tourism Centre
---