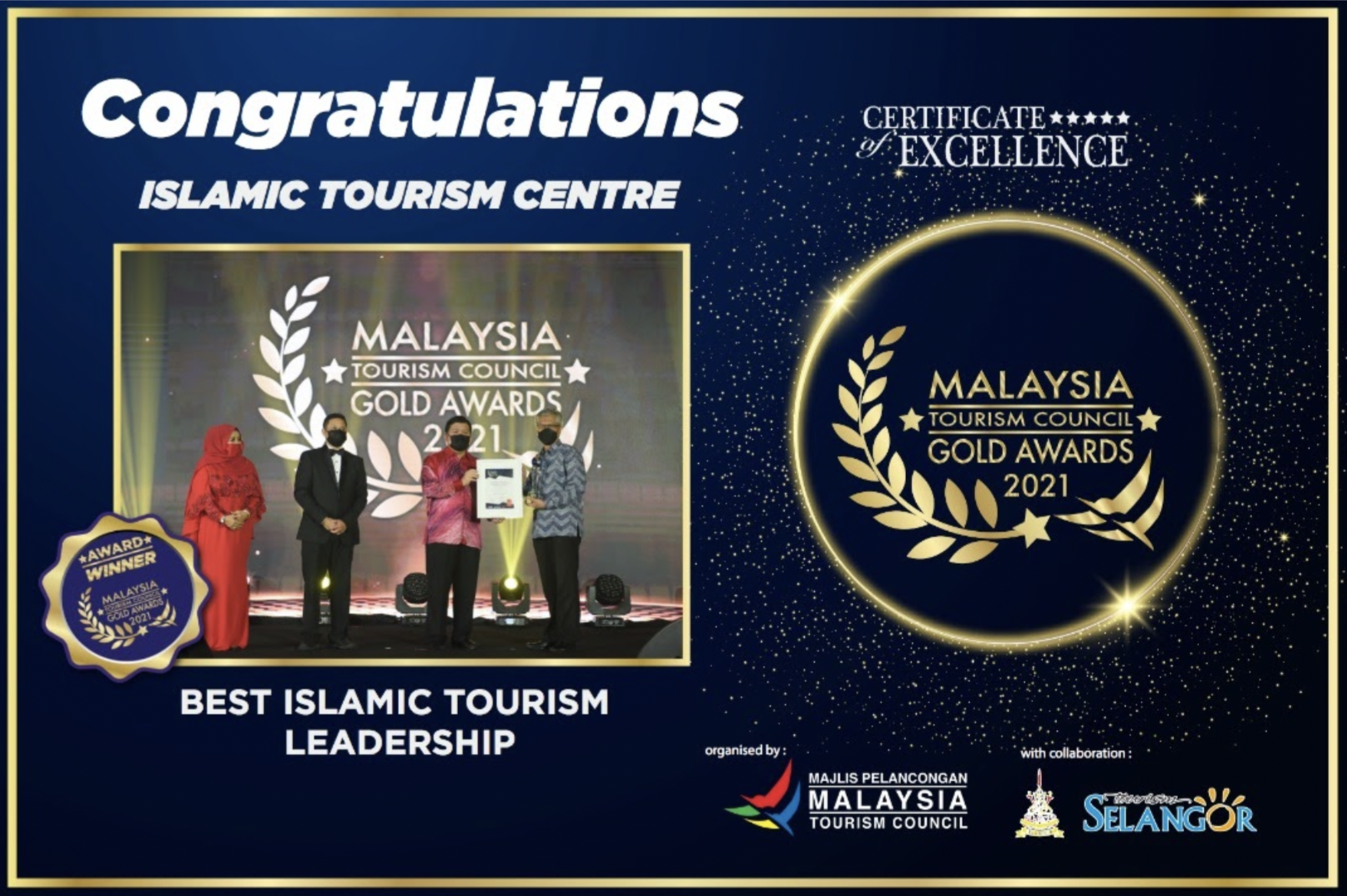 Islamic Tourism Centre (ITC), recipient of the Best Islamic Tourism Leadership Gold Awards 2021 by the Malaysia Tourism Council.
PETALING JAYA, MALAYSIA, 10 DECEMBER 2021: Islamic Tourism Centre (ITC) was presented with the "Best Islamic Tourism Leadership" award by the Malaysia Tourism Council at its Gold Awards 2021 ceremony on 9 December 2021 held at New World Hotel.
The award was given in recognition of ITC's role in spearheading efforts to develop a sustainable Islamic Tourism landscape for Malaysia and to create global awareness for the potentials of the Muslim tourist market towards tourism and economic recovery.
Dato' Dr. Mohmed Razip Hasan, Director-General of ITC received the award from Y.B. Tuan Hee Loy Sian, the Selangor tourism committee chairman.
He said: "Alhamdulillah, Islamic Tourism Centre is honoured by this recognition from Malaysia Tourism Council. It serves to motivate us to continue our efforts in strengthening the Islamic Tourism industry through focused efforts on training, capacity building, research, standards and certification, and branding and marketing. This award also goes to all our partners and industry players who have been very supportive to ITC plans and programmes."
Commenting on ITC's initiatives during the pandemic, Dato' Dr. Mohmed Razip said: "We realised how impacted our tourism stakeholders were during COVID-19 and we strived to keep them motivated, lift their hopes, raise their skills level, and continued educating and informing them about the Muslim market potential. There is strong indication of growth in this market and the appetite for travel is there. The tourism industry players just need to understand their post-pandemic travel preferences, their faith-based needs, and develop the suitable tourism products and services to meet the demand."
Even during the Movement Control Order, ITC never stopped supporting the tourism industry players, not just in Malaysia but overseas as well, providing online training and presentations on Islamic Tourism to the Union of the Comoros and the Republic of Uzbekistan, who realise the opportunities in this market and are eager to learn more.
"Moving ahead, ITC pledges to strengthen the Islamic Tourism ecosystem in Malaysia by establishing more guidelines, standards and certifications for Muslim-Friendly tourism and hospitality products and services and assisting industry players to meet basic guidelines through training and education," Dato' Dr. Mohmed Razip said.
He added: "This would raise the confidence level of Muslim consumers in choosing tourism products and services that meet their religious requirements and provide peace-of-mind holidays. With destinations gradually reopening to tourists, safety, hygiene and standards are viewed as key considerations in choosing where and how they want to travel to."
Dato' Dr. Mohmed Razip concluded: "For 2022, ITC has lined up its programmes throughout the year to fulfill the demand of the industry and stakeholders, locally and internationally. I am confident, insha Allah, that Islamic Tourism will continue to grow significantly in the coming years."
Events organised by ITC for tourism industry players during the pandemic were:
Muslim-Friendly Accommodation Recognition (MFAR)
The recognition is an extension of the Ministry of Tourism, Arts & Culture Malaysia (MOTAC) star rating system and is the first Islamic tourism-related recognition in the world that is issued by a government agency. The Muslim-Friendly concept focuses on the importance of fulfilling the needs and facilities for Muslim travellers by hoteliers such as hygiene, use of toiletries, halal food, safety and spiritual offerings that hotels can offer. To date, ITC has awarded MFAR certification to 49 hotels throughout Malaysia including international hotels such as Pullman, Hilton, and Movenpick.
ITC Corporate Forum entitled "Women in Islamic Tourism Economy"
The forum addressed the role and contribution of women to the tourism economy. It also emphasises the significance of meeting the needs of Muslim female tourists and involving more women in the tourism industry. The forum served as an avenue for women to share their own unique experiences and stories in the tourism industry, along with the challenges they face as a traveller and industry practitioner.
Basic Life Support (BLS) training session
ITC has offered Muslim-friendly tourist guides (MFTG) courses to equip Malaysian tour guides with an introduction to this Islamic tourist market, as well as the necessary skills, including crisis management training such as CPR. This training session was organised for MFTG to equip them with the knowledge and skills to handle such emergencies. A total of 21 MFTG received training in cardiopulmonary resuscitation (CPR) and hands-only CPR, and learned how to use the automated external defibrillator device.
The 15th Malaysian Technical Cooperation Programme (MTCP) entitled "Strategising Tourism for Culture and Heritage Preservation"
Organised by ITC together with the Ministry of Foreign Affairs to foster close relations and advance the understanding of tourism on a global level, the MTCP programme also facilitated knowledge exchange and the sharing of best practices in tourism among international participants. Through the MTCP programme, ITC shared that Malaysia's culture and heritage were instrumental in establishing the country as a preferred Muslim-friendly destination.
The 16th Malaysian Technical Cooperation Programme (MTCP) entitled "Strategies in Enhancing Tourism Workforce in The New Norm".
ITC has designed this programme to address issues such as tourism crisis management and highlight the skills and creativity needed by the tourism workforce to survive during and after the pandemic. It showcased the importance of education for the tourism industry practitioners with emphasis on new knowledge, market insights, and current academic research. ITC was delighted to offer education and training to strengthen and empower tourism practitioners, particularly in light of the changing tourist environment.
Islamic Tourism Entrepreneurship and Leadership Seminar (ITELS)
The objective of ITELS is to share the potential of Islamic Tourism as a business opportunity among youths and entrepreneurs interested in taking part in Malaysia's tourism economy. ITC sees this initiative as a way to encourage youths to enter the growing field of Islamic tourism. It also intends to encourage more business and tourism entrepreneurs to enter the Muslim-Friendly Tourism market. The industry experts shared their advice and insights about Islamic Tourism, entrepreneurship, and leadership.
The IMT-GT Webinar entitled "Understanding Muslim-friendly Tourism"
The webinar showcased Malaysia's commitment to the development and promotion of Islamic Tourism by introducing the Muslim-Friendly Tourism and Hospitality concept. It showed the potential economic value of the Muslim tourist market and presented the government, business, and industry perspectives to drive Islamic Tourism in the Indonesia-Malaysia-Thailand Growth Triangle. ITC has played a role in providing the knowledge and skills to industry partners as well as sharing the opportunities available in the Muslim tourist market.
The 2nd World Islamic Tourism Conference (WITC)
WITC is an international conference power-packed with exciting key topics and a line-up of well-respected speakers from government leaders, the business community, destination promotion boards, city councils, the media, and the tourism industry players. The conference was a great platform to get into the minds of their thoughts about Islamic Tourism and its future.
Mosque Tourism Seminar and Sarawak Mosque Tourism Pre-Launch Ceremony
Both were ITC's initiatives to drive interest among mosque administrators to understand, learn and participate in Mosque Tourism. ITC has collaborated with the Department of Islamic Development Malaysia (Jabatan Kemajuan Islam Malaysia – JAKIM), as well as the state departments and councils of Islamic Affairs (Jabatan dan Majlis Agama Islam Negeri) to develop the concept of Mosque Tourism which has potential as a domestic and international tourist attraction.
Collaboration with the International Centre for Education in Islamic Finance (INCEIF)
ITC has collaborated with INCEIF to research the potential use of cryptocurrencies in Malaysia's Muslim-Friendly tourism industry. The studies would provide much needed facts and statistics to optimise the potentials of the Muslim-Friendly tourism and hospitality sector.
Collaboration with the Department of Islamic Development Malaysia (JAKIM)
ITC signed a Memorandum of Understanding (MoU) with JAKIM. The MoU focuses on human capital development in the Islamic Tourism industry and the enhancement of Islamic Tourism-related programmes and curriculum in tertiary education at Institut Pengajian Islam dan Dakwah Sabah (IPDAS), a body under JAKIM. As an institution of learning providing tertiary education in Islamic studies, this will allow IPDAS to enhance their academic curriculum where Islamic Tourism is concerned, as aspired by the MoU.
—– END —–
Islamic Tourism Centre (ITC) is an entity under the Ministry of Tourism, Arts and Culture, Malaysia tasked to develop the Islamic tourism segment for Malaysia. It advocates for Muslim-friendly tourism (MFT) by offering research and market intelligence, training, industry development consultation, Muslim-friendly tourism and hospitality (MFTH) services standards and certification, and information exchange.
In 2021, ITC was named the recipient of the Strategic Business Alliance Award at The BrandLaureate World Halal Best Brand E-Branding Awards 2021. It is a recognition of ITC's efforts and endeavours in formulating new strategies to meet the new normal of the business environment to ensure business continuity and sustainability, notwithstanding its role to develop and grow the Islamic tourism segment in Malaysia.
In addition, Malaysia was named top country in the region in the MFT sector by the State of the Global Islamic Economy (SGIE) Report 2020/21. Malaysia also retained the top-ranked destination in the MasterCard-CrescentRating Global Muslim Travel Index (GMTI) 2021, a position it has defended since the launch of the Index in 2015.
These recognitions are an added motivation for ITC to continue to strengthen its efforts in being a prime mover and leading institution to ensure Malaysia is at the forefront of MFTH.
For further details, kindly contact:
Islamic Tourism Centre,
Level 13, Ministry of Tourism, Arts and Culture Malaysia
No. 2 Tower 1, Jalan P5/6,
Precinct 5, 62200 Putrajaya, Malaysia
Tel: 03-8891 7177 or via email itc@itc.gov.my
Follow ITC on these social platforms:
Facebook: Islamic Tourism Centre
Twitter: @itc_my
Instagram: @itc_my
Youtube: Islamic Tourism Centre
---